Exemore Smart Affiliate Program
Exemore Company offers a very competitive affiliate program. Which can help you to start your private business unlimitedly and remotely. Once you sign up and activate your account, Exemore will send you a specific URL only for you to start marketing Exemore current products in exchange for a profit share on every deal made by you.
Exemore Smart Affiliate is your perfect way to increase your earnings through marketing the existed products on Exemore E-commerce platform and gaining high commissions for every sold product through your URL.
Exemore Smart Affiliate is your settled partner for gaining profits safely continuously.
Register now in Exemore Smart Affiliate and start your own business.
What is the Exemore Smart Affiliate program?
It's is a mutual-profit program that helps you to earn more money by helping in marketing the provided products on Exemore platform and generating new deals with customers all over the world.
How to sign up?
After creating a new account on Exemore platform, check these steps to create your Affiliate account.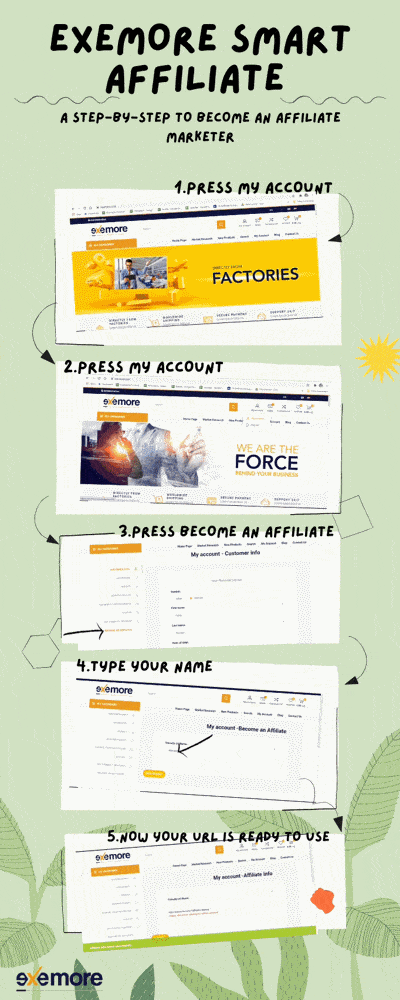 How do I earn with Exemore?
| | |
| --- | --- |
| Individuals Commission | 2% |
| Companies Commission | 3% |
The commission is calculated on the entire purchase cost.

$300 is the minimum amount to start any money transaction.

The commission could be requested after 15 days of deal completion.

The commission automatically appears in your affiliate account, but it can't be withdrawn until the order is completed and the deal is underway.